Continued commitment to excellence and relentless pursuit of customer satisfaction
HVAC construction
Mosby Mechanical is experienced in all facets of the Commercial HVAC industry. Mosby works in Schools, Jails, Hospitals and Industrial settings. Mosby has the ability to design, build, and install all types of HVAC systems, from Chilled Water & Heating Water piping systems to Variable refrigerant Flow (VRF) systems. Mosby has a complete drafting department with Building Information Modeling (BIM) capabilities, producing fully coordinated shop drawings with all trades. Mosby prides itself on having the knowledge and expertise to handle all of your HVAC Construction needs.
Commercial, institutional and industrial plumbing
Mosby Mechanical has served Texas with commercial, institutional and industrial plumbing since 1974.  Our top priority is commitment to quality, to guarantee your satisfaction.  Mosby is a team consisting of diligent workmanship, professionalism, ethical and courteous service ensuring we get the job done with precision and on time.  We have a prefabrication shop capable of assembling piping, hangers, and equipment.  No project is too small or too large.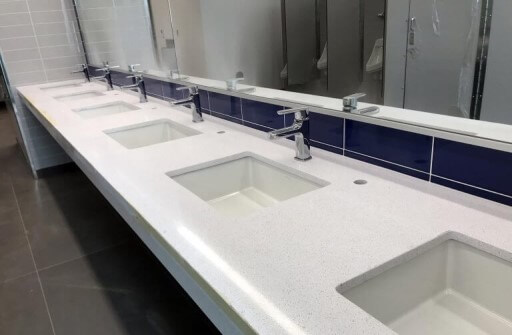 unmatched professionalism
Our highly trained team of professionals strive to do the perfect job regardless of size or scope. We want to be part of YOUR TEAM on every project. See more about our amazing Mosby Team!
As one of the major subcontractors on this project, we feel we made the correct choice in awarding Mosby Mechanical the Mechanical and Plumbing portions of work. Your company's efforts worked especially well on this project. In working with your project staff there was a perceived trust factor between the subcontractor and contractor seldom experienced in most projects. In addition, we feel that the management of the project as a whole was exceptional. Your company was eager to work with both Choate/R-O and the owner to assess and avoid probable issues and to address any potential concerns, within a timely manner to insure the scheduled delivery date of the project was met.
My personal experience with Mosby Mechanical has been very good for the past two years. The quality of their work is excellent and on the rare occasion that we discover something is not quite perfect, they will cheerfully correct the issue. All issues have been very minor in nature but they have taken each one very seriously and quickly resolved to our complete satisfaction. I can heartily recommend their work especially where Russell is involved as their representative on the project.